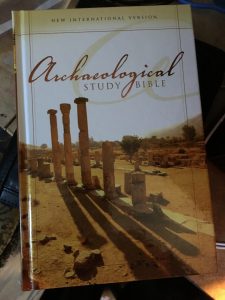 To truly understand God's Word requires more than simply reading a convenient copy of it as though it were a history or biography. Ideally, to delve deep and truly understand, we would read the texts in their original languages. For most of us, that is impossible. Even if such copies were readily available to us all, we simply don't have the necessary language skills.
Fortunately, people who do have those skills and access to original copies, have done the work for us. That is why there are so many Bible versions available today. Respected scholars, regularly, go back to the Greek, Hebrew, and Aramaic sources and retranslate them in an attempt to clarify God's Word. Today, there are so many different versions, it can be a chore just to make a choice between them.
Since I am not good at making such a choice, I own many Bibles. They range from the lyrical King James version that I grew up with, to a Living Bible which is a paraphrased version meant to be easier to read. Some of them I bought, some were gifts, and some I inherited from my mother. However, the ones I use the most were purchased over the course of the past ten years.
They are study Bibles. In addition to the footnotes that you find in almost any version, they have extensive background on the text:
Explanations by experts as to when they believe the books were written and by whom.
Context as to the historical periods, the cultural and political forces of the time.
Explanations as to why a certain turn of phrase was chosen over the older form.
References to other books of the Bible that have similar wording and scenes.
Background information that helps us to understand why the author included this story and what it means to us today.
I actually own five such Bibles:
The first one, The New International Version (NIV) Study Bible, is a softback copy that I purchased for use with a Sunday School class I was enrolled in at the time. It's lightweight and convenient for carrying around.
The second one, Today's Parallel Bible, I bought as a response to all those confusing choices. I wanted a simple way to compare the wording of several versions at once. It contains four versions, including the King James (KJV) that is still my favorite.
The third one lives on my nightstand. It is The Harper Collins Study Bible, a New Revised Standard Version (NRSV). I bought it because I had settled on it as the one I was going to use for my personal studies.
The fourth one, The New Oxford Annotated Study Bible with Apocrypha, also a softback and an NRSV, was a required text for a college course I took.
The fifth one, The Archaeological Study Bible is an NIV and was a Christmas gift from my daughter, Jeanne. I had it on my Amazon wish list, intending to buy it myself, and she beat me to it. I am finding it invaluable. It goes even beyond the normal study Bible. It not only expands on things with cross references to other biblical sources and explanations that scholars have researched or interpreted about the text, but also includes secular writings to back up the historicity of the Bible and information about how other ancient religions related to ours.
As I continue with my Lenten commitment to follow the Lectionary readings every day, the Archaeological Bible is the one I am using. It helps me to dig deeper into the contexts of what was written and relate it to our modern day lives. As I post here over the next few weeks, I will try to explain my thoughts and feelings about what I'm finding. Please, join me on my road to Easter. I hope you find it, at the least, an interesting trip.
Please follow and like us: