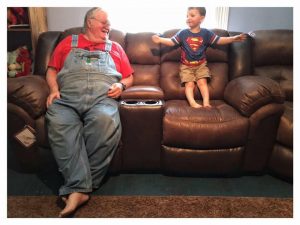 My brother, Davie, had no children of his own. He was never married. But, he provided a father figure for all my children and grandchildren and he was starting on the third generation. Uncle Davie was the wall at all our backs.
Our father was always there for all of us, no matter what. We could go out with confidence knowing that whenever things got tough, he would be there for us. Even if we screwed up big time after he had tried to warn us, there'd be no "tough love" lecture or recriminations. He'd just fix it and let us start over. Never once, in all our lives, not even for a second, did any of us doubt his love. Davie soaked that attitude deep inside and made it the center of his nature.
He began his lifetime of service when he came back from Vietnam shortly before the birth of my middle daughter. We were all living with Mom and Daddy. There were only three bedrooms and one bath. It was crowded. My other three brothers shared a room. I shared the second room with my three older children. My oldest daughter, Chrystal, slept in my bed. Her two older brothers, Bill and Tom, slept on the bottom of a set of homemade double bunk beds. When Davie came home, he took the top bunk. When my second daughter, Jeanne, was born, we squeezed her bassinette into the corner at the end of my bed. I rarely had to get up with her in the middle of the night because Davie always heard her before I did and had her changed, fed, and back to sleep in no time. In 1972, that was almost unheard of in a father, much less an uncle.
When our father died, Davie was still living at home and he stayed there. While the rest of us made separate lives, Eddie being himself, Dannye and I married with families of our own, Jim traveling the world with the Air Force, Davie stayed with Mama. He helped her with the bills, the heavy housework, and the yardwork. That was his life.
When Jeanne moved from Charlotte, NC back to Madisonville with her two daughters, he spread his wings over them as well. When Mama began to fail, he took care of her at home as long as he could. When the decision was finally made to put her in a rest home for her own safety, I moved back here too and he expanded his reach.
As the years passed, he played father figure to all of my grandchildren, just as he had to my children. He taught them, by example, what a man should be: strong, non-judgemental, reliable, but also gentle. I'm not saying he was perfect. He gambled and could be stubborn about doing things his own way. There were times when the male chauvinistic attitude of his youth would rear its head and he'd really get on my feministic nerves. But, he never held a grudge and was so soft hearted, he often seemed to let people take advantage of him.
He was our rock, the wall at our backs. Whenever there was a problem, it was Uncle Davie we all called. He died yesterday without any warning. We are all stunned. The hole he has left in our lives will take a long time to close. Our only comfort is the fact that he went quickly and didn't have to spend months or years wasting away like our mother, father, and older brother did. He was reasonably healthy and happy until the very end. We know he is in heaven with them now. He certainly deserves it if anyone ever could.
Please follow and like us: