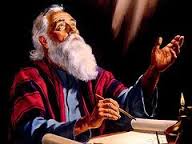 Bishop Spong is giving me much food for thought.  I really don't believe that God wants us to simply accept everything we are told about Him at face value.  I feel "called" to dig deeper, to study, and also to use the brain He gave me to think about what I find and use the logic He also gave me to decide what is "True."   I can accept the idea that the men who wrote the books of the Bible were God inspired.  Even the men who chose which books to include may have been God inspired.  However, they were still men, subject to error in spite of that inspiration.  They viewed the revelations they were given through the lens of their own experience.  If you are exposed to an idea or vision outside your experience and knowledge, you must relate it to something familiar in order to understand it.
An ordinary man in 900 BCE could not conceive of a mechanical device that flew.  He would translate such a thing as a giant bird, a dragon, or perhaps a wheel.  The instruction to "have dominion over the earth" was seen as having power over all, not a responsibility to take care of it.  Woman as a "helpmate" became servant instead of partner.  But we, as modern people, with a wider, more scientific, understanding have a responsibility to look at the scriptures and re-vision them in the light of present day knowledge.
The result may drastically alter our religious viewpoint, but it doesn't have to cancel it out.  Instead it can help us to see through the glass more clearly.  We'll still be a long way from understanding the Almighty or His/Her plan, but we can come much closer than "scholars" of the ancient world because we begin with a better understanding of the world God made.
Please follow and like us: